Blind testing of a nice mix of new and old Italian instruments turns into success for the modern ones.
On March 18th 2006 a blind test was held in Stockholm. Out of eight violins produces by members of SVSF (The Swedish Violin and Bow makers Association) three were chosen to be tested against three old Italian violins. The old instruments are part of the Järnåker foundation. The instruments were a Antonio Stradivari from 1709, a GB Guadagnini from 1772 and a Joseph Gagliano from 1766. All three are professionally used and absolute genuine.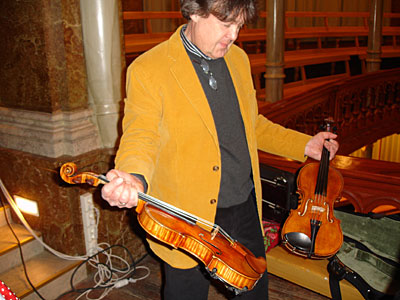 Bernt Lysell with the Westerlund and the Stradivari violin.
The Stadivari is to the left.
The players were Bernt Lysell, concert master of the Swedish Radio Orchestra in Stockholm and Per Sandklef, principal of the second violin in the same orchestra. The violins were played two rounds by each player. Different excerpts were used each time (Bach, Bruch and Sibelius)
The jury was mainly consisting of string teachers who's annual meeting was held at the same occasion. These people can be said to be frequent concert listeners as well as having an university education on stringed instruments. The jury could not see the instruments when the played because the stage were held in darkness.
Out of 70 people listening, 55 votes were left. The question was simple: Which violin did you think sounded best, second best and third best? The chosen violins were rewarded 3, 2 and 1 point for each time they were chosen in one of the three categories.
The outcome was spectacular and a little bit surprising. We are proud though over the result.
1:a Peter Westerlund, Norberg 70 points
2:a Josef Gagliano 59 points
3:a Torbjörn Zethelius, Stockholm 54 points
4:a Jan Larsson, Lima 39 points
5:a GB Guadagnini 38 points
6:a A Stradivari 27 points
The reason for the test was to give the violin customer a concrete statement of the myth about the superiority of old instruments. The representative of the violin market have defended this statement which have brought, students as well as proffessional musicians, to belive that only old and expensive instruments can come into question for a successful career.
Our opinion is that a good sound can be obtained from as well made modern and reasonably priced instrument. Buying an old instrument brings much more focus on genuineness and preservation as does any antique object.