WESTERLUND TRIO
ARTUR KAGANOVSKIY ESZTER SZILVESZTER MIHO ZAITSU
VIOLIN VIOLA CELLO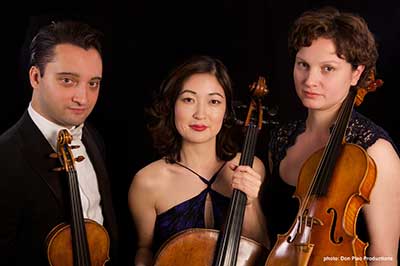 We are proud to present the Westerlund Trio. The fact that the trio has taken the name Westerlund Trio, is not only a great honour for Peter Westerlund, but also an historical happening. In our knowledge it is extremely unique that a string ensemble takes their name after a now living violin maker.
From the Westerlund Trio homepage:
- Inspired by one of the world`s finest violinmakers, Peter Westerlund, the Westerlund Trio continues the legacy of the great masters. Captivating audiences with their powerful and imaginative interpretations, they are equally commanding in standard baroque music as they are in adventurous contemporary works.
Picture from the debutkonsert in New York December 13, 2014. From left to right: Artur Kaganovskiy, Irene Westerlund, Eszter Szilveszter, Miho Zaitsu and Peter Westerlund.